Transport via air is often the quickest and safest way to transport cargo from A to B. Therefore, we are very proud to announce that
Kizy
's tracking device has been 
approved for flight usage by SWISS WorldCargo
.
W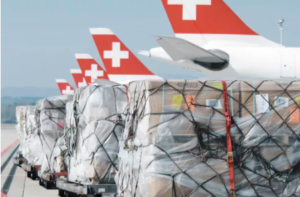 hile you can log into your airline's portal to check every now and then, the manual task is very time-consuming, prone to errors and only includes basic details. Kizy provides you with reliable and accurate information on your shipments in real-time. With the
K-2 tracker
 being certified for flight usage by SWISS WorldCargo, you can now 
constantly monitor your cargo during the course of its journey
.From the first step when your goods leave your facility until the last step when they reach their destination you get real-time information on their status (movement, location, temperature, humidity, light changes).
This enables you to be proactive when it comes to delays or other risks. Especially the first and last mile are highly unpredictable. This is where damage, loss or delay usually happen. With its small size and light weight, the Kizy trackers can easily be attached to your shipments, making global tracking as simple and easy as possible!SWISS WorldCargo is the air cargo division of Swiss International Air Lines Ltd. and provides a comprehensive range of logistics solutions for transporting any type of cargo including high-value and care-intensive consignments to some 130 destinations in over 84 countries.
Discover more news from Kizy Tracking here.