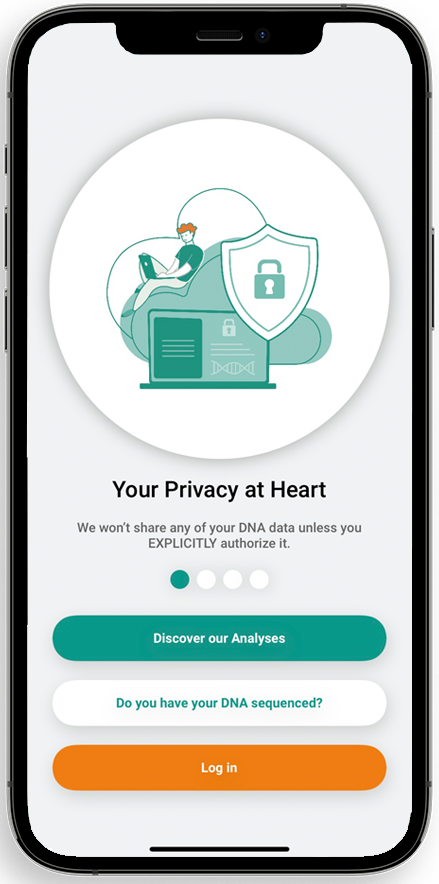 Lausanne, June 2021 – GenomSys reveals its GenomYou app at the Mobile World Congress in Barcelona on the 28th of June. GenomYou is a mobile application that can run a complete quality-controlled in-app automatic analysis of genetic data whenever legally allowed. The GenomYou app combines a high level of privacy and the convenience of mobile for genomics, delivering on GenomSys vision to make personalized medicine a reality.
The user-friendly GenomYou app is designed to revolutionize genomics by providing individuals with direct and convenient ownership of their DNA information. It enables them to save on their device their genomic data and any genomic-related report they might have requested, assuring the highest level of privacy and security. The app is a unique platform that allows to order analyses from the mobile phone, even run them on the phone when legally allowed (depending on country-specific regulations and the type of analysis), and connects users with qualified laboratories and medical telecounseling.
"The myth of personalized medicine has been floating around for quite some time, but with our GenomYou App, the time is now to make it real. We are proud to show at the Mobile World Congress the worldwide first – to our knowledge – mobile application that can run a completely in-app genetic analysis, for example, pre-carrier screening (of course, after a sequencing center has sequenced DNA). Thanks to our team's efforts, we want to deliver on our vision to make personalized medicine a reality, for everyone, anytime." says Alessio Ascari, CEO of GenomSys.
At the Mobile World Congress (MWC), the world's largest and most important event for the mobile industry, GenomSys will present a concrete use case (not for final diagnostic purposes yet): the automatic in-app analysis of roughly 440 genetic variants, previously described of relevance for the Arabic population in scientific publications, which are possibly linked to certain inherited disorders. An application of extreme value for over 10 million young GCC nationals and a glimpse into what mobile genomic analysis can bring to the region where tailoring health care to individual needs is already a reality. And just an example of how a genetic test could increase awareness of inheritable genetic mutations and address the needs of hundreds of millions of people worldwide.
Our GenomYou app can handle massive genomic data and process them thanks to our ISO-endorsed international genomic standard (MPEG-G). Its high compression benefits allow the storage of genomic data on the phone without using its entire storage space. Its selective access feature enables fast processing of the genomic information and hence a rapid analysis directly carried out in the smartphone. GenomYou is bringing genomics to the mobile world.
GenomSys has been selected to be part of the Swiss National Startup Team, representing the most innovative mobile Swiss startups at the Mobile World Congress in Barcelona. Thanks to the event's roadshow, GenomSys and its GenomYou app will be introduced to international investors, companies, press, and telecom industry leaders at the MWC's startup fair 4YFN as well.
GenomSys will exhibit at the Venture Leaders booth for the Swiss National Startup Team (Hall 2 Booth H14). Its management will explain its vision, show the GenomYou app working, and detail its rationale.
Please click HERE to download the press release in English, German, French or Italian and for additional images.
About GenomSys
GenomSys SA is a Swiss health technology software company that develops secure, clinical-grade, solutions bringing personalized medicine to everyday life.
GenomSys first took genomics to the digital era by addressing the issues of legacy genomic text-based data formats. The company developed and led the ISO international standardization of MPEG-G (ISO/IEC-23092), a digital data format for genomic data representation that delivers substantial benefits in terms of efficient compression, interoperability, native protection, and selective access.
Now GenomSys is taking the next step, enabling laboratories and end-users to take advantage of the new standard: MPEG-G native analytical pipelines for more efficient storage and focused analyses via selective access, and the ability for people to store and analyze their own genomic data in their smartphones, bringing genomics into the mobile world.
In doing so, GenomSys defines a new paradigm with a highly differentiated solution: a consistent value proposition emphasizing privacy and convenience to truly deliver personalized medicine to individuals by leveraging the uniqueness of the new digital genomic standard and the pervasiveness of mobile, directly or through business partners.